Related Links
Case Updates
Close Encounters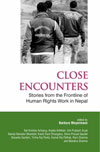 Video Gallery
When will they get justice?
Nepal: Stop Torture and Criminalize it!
Nepal has not yet enacted legislation criminalizing torture. Despite the ratification of UN Convention against Torture in 1991 and the commitments made before national and international forums, the government of Nepal failed to bring a legislation which criminalizes torture. As a result, still many detainees are tortured in police detention centers.
Advocacy Forum – Nepal call upon the government of Nepal to immediately enact legislation criminalizing torture. This 3 minutes and 29 seconds advocacy video provides the fact on the situation of torture in Nepal and need for criminalization of it to stop torture in government detention facilities.
AF Speaks in UN Security Council: 10th Anniversary of Security Council Resolution 1325 - Press Conference
21 October 2010. Inter-agency press conference to mark the 10th anniversary of Security Council resolution 1325. The press conference will focus on the work of women peace advocates, United Nations priorities in advancing the resolution, the achievements of resolution 1325 in the last ten years, and the challenges ahead. Participants include Said Djinnit, Special Representative of the Secretary-General, UN Office for West Africa; and Mandira Sharma, Executive Director, Advocacy Forum, Nepal.