Related Links
Case Updates
Close Encounters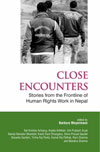 Advocacy Forum-Nepal Co-Organized a Interaction Program on Conflict-Related Sexual Violence in Nepal
The program started with the documentary filmed by the Story Kitchen, showcasing the stories of victims of torture and conflict related sexual violence. During the program, Geeta Rasaily, Vice Chairperson of CVWN, who was also a member of the NAP Drafting Committee, stated that the second draft of the NAP had removed many terms such as conflict-related sexual violence and reduced the penalty period from four to three years, which she believes will impede the right to justice for many women exploited by sexual violence during armed conflict.
Similarly, Dr. Mandira Sharma from ICJ elaborated on the national and international provisions in the 1325 and 1820 National Action Plan. The speakers representing political parties and parliaments including Hon'ble, Bimala Rai Poudyal (Member, National Assembly), Hon'ble Samina Hussain (Member, House of Representatives / Member, Law, Justice and Human Rights Committee), Hon'ble Pushpa Bhusal (Chief Whip of Nepali Congress House of Representatives Parliamentary Party) and Anita Pariyar (Central leader-All Nepal Women's Association- Revolutionary) all showed their political commitment to raise the issue of conflict-related sexual violence and NAP 2nd phase in parliament as well as in the concerned party meetings.
The interaction program was concluded with a commitment to continue a discussion series on the same topic to gather the governmental as well as parliamentary attention and commitment towards 2nd NAP 1325 and 1820.
« Back to overview