Related Links
Case Updates
Close Encounters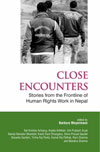 AF Coordinated Medical Check-up for Children at Child Correction Home, Banke
With 156 children and 7 staff members from the Correction Home, total of 162 people had their eyes and ears checked up during the camp. Altogether 116 children were provided with free medicines and 7 were referred to Brinos Ear Care Center for ear operation.
The program was chaired by District Judge Khadananda Tiwari from Banke District Court and Chief District Officer Shiv Ram Gelal, from District Administration Office, Banke. Speakiing in the program, both of them appreciated the effort of organizing a free health camp. Bimala Kaucha Magar, In charge of the Correction Home, thanked to AF for coordinating the program and also shared other difficulties being faced by the Correction Home.
AF has been continuously raising voices regarding the issues related to Correction Homes all over the country. Along with the free legal aid, AF has been providing assistance to the Correction Homes in every possible way.
« Back to overview