Related Links
Case Updates
Close Encounters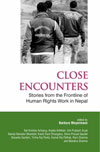 Advocacy Forum-Nepal together with other Human Rights Organizations submitted Memorandum to Nepal Government to Ratify the Rome Statute
The human rights organizations remind the Government of Nepal of the importance of ratifying the Rome Statute as it coagulates in fulfilling Nepal's commitments made at various international forums along with addressing the deeply entrenched culture of impunity in the country. The Rome Statute endows individual criminal responsibility on international crimes such as war crimes, crimes against humanity, genocide, and crimes of aggression and guarantees victims' right to justice. The Statute will also serve as a tool to dissuade parties to the conflict from committing the heinous crimes that have been committed in many conflict situations in the past. Rather than restricting the jurisdiction of national courts, the ratification will help create a conducive environment to combat impunity. For the promotion and protection of human rights, the ratification of the ICC Statute is a must, says the human rights organizations.
Through the memorandum, the human rights organizations also remind the Government of Nepal of the proposal passed by the reinstated House of Representatives on 25 July 2006 concerning the ratification of the Rome Statute of ICC, as well as, the recommendations received by Nepal from several United Nations (UN) the Member States to prioritize ratifying the Rome Statute in all the last three Universal Periodic Review cycles (2011, 2015 and 2021).
Up until now, more than 123 States have acceded to the Statute worldwide. South Asian countries like Afganistan, Bangladesh, Maldives have already ratified the Statute.
Hence, the human rights organizations urge Nepal Government to immediately initiate efforts for the ratification of the Rome Statute in order to ensure accountability against international crimes and to uphold the rule of law in the country.
For the full text of the memorandum, please see: Memorandum to Prime Minister via DAO, Dhanusha
« Back to overview