Related Links
Case Updates
Close Encounters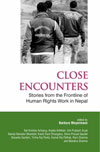 Court Awards Compensation to Torture Survivor
Arjun Gurung, 26, a permanent resident of Gorkha district and temporarily living at Banasthali, Kathmandu, was arrested by 5 policemen at around 7.30 am on Sept. 1, 2009 on the allegation of theft and was released the following day.  During his detention at Metropolis Police Range, Balaju, he was severely tortured for about 4 to 5 hours on various parts of his body by the Deputy Superintendent of Police (DSP) Basanta Bahadur Kunwar and Constable Giri Raj Aryal. Mr. Gurung had filed a torture compensation case under the Torture Compensation Act (TCA)-1996 before the Kathmandu District Court on 18 September 2009. The victim and his lawyers had been constantly facing threats to withdraw the case since it was brought before the court. DSP Kunwar, who was sent to Liberia in Peace Keeping mission in September 2011, was repatriated from there by the Department of Peacekeeping Operation, owing to his involvement in a serious human rights violation like torture, while another alleged perpetrator Giriraj Aryal has been promoted to Head Constable. The court gave its verdict on the 28th hearing of the case- almost three years after it was brought before the court.

The victim is, however, dissatisfied with the court's verdict. He is of the opinion that the inadequately provided pecuniary compensation is incompatible to the mental and physical loss he endured because of the infliction of torture and that no perpetrators have been taken departmental action as demanded, despite clearly mentioning their names in the writ petition.

Advocacy Forum had assisted the victim to file torture compensation under the TCA.

« Back to overview
Latest Photo Gallery
» All Galleries